---
What is a Pood?
This is common question for folks new to kettlebell, especially if you have been getting your workouts from Crossfit. 'Pood' originated in Russia along with kettlebells and is a unit of measurement for kettlebells in Russia. More specifically it is a unit equal to 40 funt (фунт, Russian Pound). A funt is a Russian pound
---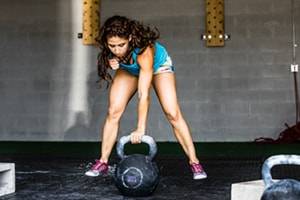 What is a Pood in Kilograms and Pounds?
It is approximately 16.38 kilograms. A kilogram is 2.2 pounds. So one pood is also 36.11 pounds.
Often times you will see a Crossfit workout call for 1 Pood, 1.5 Pood or 2 Pood. So, the common kettlebellweights closest to this would be a 16 Kg Kettlebell, 24 Kilogram Kettlebell and a 32 Kilogram Kettlebellrespectively.
---
Common Kettlebell Weights and their Kilogram & Pood Conversions
| | | |
| --- | --- | --- |
| Pounds | Kilograms | Poods |
| 9 | 4 | .25 |
| 13 | 6 | .4 |
| 26 | 12 | .7 |
| 35 | 16 | 1 |
| 44 | 20 | 1.2 |
| 53 | 24 | 1.5 |
| 62 | 28 | 1.7 |
| 70 | 32 | 2 |
| 80 | 36 | 2.2 |
| 88 | 40 | 2.4 |
| 106 | 48 | 3 |